Naked and Embarrassed before her spanking
Never underestimate the power of having a young lady undress and making her stand fully naked prior to her spanking.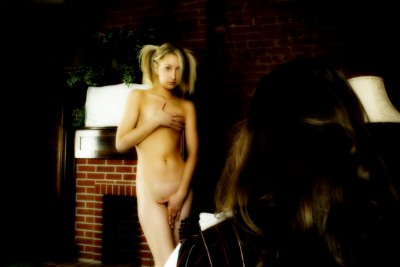 Agreed. In the picture above the girl is attempting to sheild herself, so it looks like the order has not been given for her to place her hands on her head for her proper scolding. And of course during her corner time, coverage will certainly earn her extra spanks.

The picture above is particularly interesting because there appears to be natural light coming in from behind the young woman, which means that her angry mother or Aunt has not permitted her the luxury of closing the drapes.

If the window is open, the sound of the scolding and the spanking itself will carry far, altering everyone who cares to to go to their windows for a look, or perhaps climb a nearby tree with a set of binoculars, or perhaps a smart phone with a zoom, so they can share video of the event with their friends.
Posted by Goodgirl on 08/30 at 07:51 AM
Great graphic effects on this fab image. It's interesting, I find some of the very best spanking images, have zero spankings in them. As you mind fills in all the pervy details

Dave
Posted by
Dave
on 08/31 at 04:16 PM
God could imagine the embarassment, knowing whats coming but having to stand there in your birthday suit
Posted by on 09/24 at 10:15 AM
Commenting is not available in this weblog entry.