The Spanking Blog
This is an adult site dedicated to the exploration of spanking between consenting adults. The main focus is on disciplinary spankings portrayed in various spanking videos and pictures, with sample pictures and reviews of the spanking content. The most recent blog posts appear below, and the free spanking picture galleries on this site can be found on the menu on the left. All spanking content on this site is free, and any link leading you outside of this site is clearly labeled as such. You must be 18 years or older to view this site.
[ Tuesday, March 21, 2017 ]
Tears Series- Kiki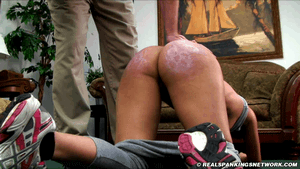 Now available at Clips4Sale
There is one true purpose when it comes to spanking and the application of corporal punishment…to teach a VERY REAL lesson. As strict parents have known for generations, the main determining factor, as to whether a lesson is being learned, is the presence of tears. If a young lady is not crying during her spanking, then she is not learning her lesson, it is as simple as that. This most basic of punishment concepts is often lost in the current world of spanking videos…but not today. This video explores corporal punishment in the exact manner that it was intended, with severe spankings that lead not only to tears, but full on crying, in each and every scene.
Over the course of 8 separate scenes (all with face and bottom views), you will watch the young and beautiful Kiki, who is still in braces, spanked in a manner that is intended to teach very real lessons. This 46-minute video shows exactly how effective strict corporal punishment can be. There are no warm-ups, all but one scene is on the bare bottom, and they all continue until her bottom is bruised, and she is crying her eyes out. Most of her punishment include various degrees of nudity, adding further embarrassment. This video includes 2 bare bottom paddlings, a severe handspanking, a butt bruising spanking with a wooden ruler, an brutal session with a Scottish Tawse, several strappings, an intense whipping with a martinet, and one of the most realistic and intense school corporal punishment paddlings ever captured on video. The common thread to all of these spanking…TEARS!!! If you want to see spankings administered exactly the way they were originally intended, this is the video for you.
Now available at Clips4Sale