Spanking on the bed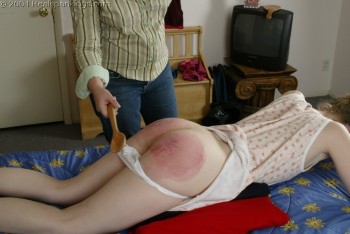 Image from the member's area of Realspankings.com

I am not sure why, but I really like spanking pictures that feature a punishment with the young lady laying down on the bed. In reality, it is not one of my favorite positions to use in real life, or when filming a scene. I do not think it presents the bottom very well, some implements do not work very well when swung from above, and even with a pillow under their bottom, it does not create enough of a bend at the waist to raise the tail bone high enough to be out of the way for the punishment. Please do note, that the use of a heavy wooden implement such as a paddle or a hairbrush, on someone who is laying flat on a bed, could only be considered dangerous due to the risk of direct contact with the tail bone. But for whatever reason, I love to look at content that features someone lying flat on the bed. Maybe it is the innocence and realistic feel of someone being sent to their room for a good spanking. I think in a few of the pictures below, it is the position combined with the cute pj's the young lady is wearing for her spanking. To me, the pj's and laying down on the bed add a very authentic feel to the discipline. Either way, today's post is dedicated to young ladies being spanked on the bed, enjoy!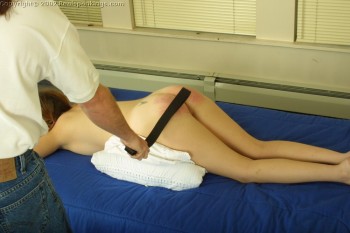 Image from the member's area of Realspankings.com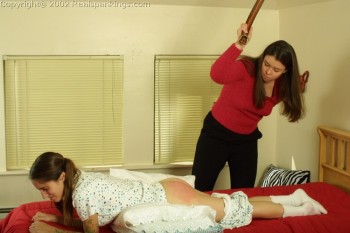 Image from the member's area of Realspankings.com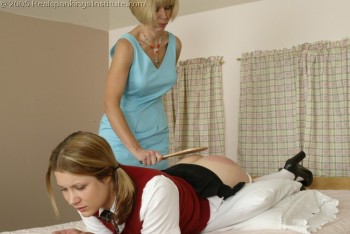 From the member's area of RealspankingsInstitute.com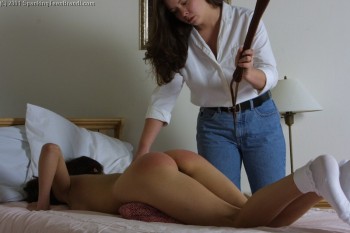 From the member's area of Spankingteenbrandi.com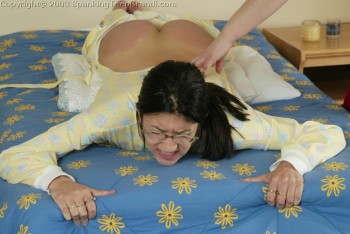 From the member's area of Spankingteenbrandi.com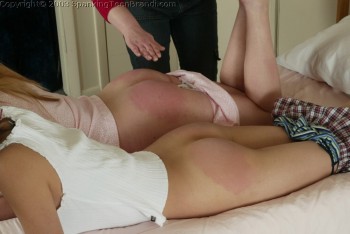 From the member's area of Spankingteenbrandi.com

Comments:
I don't know. I think some of these pics show an excellent presentation of the bottom. I really like the second one, which I think is Amy, and the first Brandi one, where she's wearing only the little socks, really makes her butt look great.
I prefer a variation of this pose in which the legs are hanging off the edge of the bed. It allows for the bending of the hip area even though they are laying down, and can be enhanced with a pillow under the hips. This is the pose I get into many times for my wife, who cannot handle a grown man OTK or in a less stable position. It allows perfect access to the 'sweet spot'.
Encouraged by your blog, I just took a realspankingpass for a month. So now I would like to know where to go to find the contributions that correspond to these pictures. If it's not too much work: could you put some links for that somewhere?
Especially this last photograph looks really enticing!
Last Picture- Spanked with Caroline
May. 19, 2003, Teen Brandi
2nd last- Drop Seat Pajamas
Apr. 28, 2003, Teen Brandi
3rd last- Strapped over the Bed
Jan. 19, 2002, Teen Brandi
Any of these videos can easily be located on any of the pass sites. Simply use the search feature on any of the sites and select "lying down" as the search term in the 'positions" category, and leave all other search variables blank. Let me know if there are others you cannot find.
Cheers,
Michael Masterson
For me, the most appealing spanking scenes are ones that depict real life situations. Getting spanked while laying on the bed is one position, one would associate with a young teen, who would too big to go OTK. It is also perfect using that parental favorite, the belt. For some, on the bed spankings would also bring back memories of bedtime spankings, where pajama bottoms would lowered or nightgowns raised, followed by underwear being pulled down to the knees.
Mr. M -
I am a long time reader/subscriber, first time blog commenter. I must say that it is great to have yo back on the blogosphear doing your thing, these updates have been awesome.
Heard a rumor on another message board that Kailee has landed herself in some serious legal trouble fairly recently. More specifically, I've read on two different forums thatshe was awaiting sentencing on first degree assault for stabbing an ex-BF.
I totally get it if u don't want to comment on the personal life of a former employee, but can you shine any light on this for those of us worried about her?
Thx, and keep it up
- The D
I love the spanking pictures of the girls laying down on the bed with their bare bottoms getting spanked.
It makes me think about the bedtime spankings my mother gave me.
Many times when I wouldn't go to bed she would come into my room and pull my underwear down and spank my fanny with her hand or the hairbrush, as I was laying on my bed.
She would even make my brother and sister and I lay on the bed together and then she would spank our butts.