School corporal punishment and the use of the paddle.
bruised_from_school_paddling13.jpg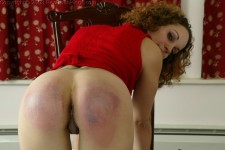 Clearly, I have somewhat of a fascination with school corporal punishment, especially the use of the paddle. But, I still do not believe that children should be spanked under any circumstances. I have dealt with the conflict of my attraction to this type of content and my opposition to its use in a previous post. As a result of this fascination, I created the "School Swats" series on Realspankings.com. Previously I discussed this series in detail in an older post.
It has been a while since I discussed it so I thought I would bring you up to date. School swats is a series in which we do a candid interview with models and discuss any previous experience they have with being paddled at school. While most did not grow up in a state that allowed it, there are certainly some surprising and very detailed accounts of young ladies presenting their bottoms to a school administrator for a hard paddling. After their interview the model bends over, fully clothed, and takes ten swats from a school type paddle. The paddlings are given in a very realistic manner, trying to recreate actual school paddlings as they are actually given. We have done our best to recreate the most common positions, with the young ladies bending over a desk, hands on a chair, hands on knees, and grabbing their ankles. We have also explored various states of dress with paddlings administered over jeans, thin cotton pants, dresses, and skirts. After their paddling, the young lady bares her bottom while we see the results of a real school type paddling. After the paddling and inspection of her bottom, the model speaks candidly about how much it hurt, how she would have felt about receiving that type of punishment in school, as well as if she feels that it would have served as a deterrent for bad behavior. For the models who received school corporal punishment growing up, they discuss how realistically they feel our paddling was and how it compared to what they actually endured.
The most common thread between all of the paddlings that we administered for this series is the marks. Keep in mind that for most of the scenes we use a paddle that I feel is a bit small by school standards. The paddles that I saw in the schools I attended were a little longer and quite a bit thicker. Knowing how common school paddling was, and still is in many states, I am not surprised at the amount of lawsuits we read about in the news regarding school paddlings. Our scenes demonstrate that even with a moderately sized paddle, applied at a similar severity to that of schools, leaves very deep bruising. Only a couple of girls in the history of the series have walked away with anything less than giant purple bruises on both of their bottom cheeks. As of today, there are 25 school swats videos on Realspankings.com. In addition, we took it a little farther and began a "Bare School Swats" series that is exactly like the "School Swats" but the pants and panties some down. We have also added a "school strokes" series that currently has 17 different scenes. This is the exact same concept except a cane is used. Some of the scenes it is applied over jeans and in others it is bare. I enjoy the scenes in which a model has participated in both series and is able to compare the effectiveness of the cane vs. the school paddle.
Today I will be adding a "School Swats Results" gallery to my Free Galleries where you can see the results of all of the school paddlings we have administered in this series. Warning- this is about as hard of videos that we do and the results are often not pretty. Please only visit this gallery is you are prepared to see bottoms as bruised and blistered as they get. An interesting point to notice when viewing these results pics is the effect of clothing on the marks. Clearly, the more layers, the less marks. In almost all the pictures in which the girl was paddled while wearing jeans, you can see a diagonal line that crosses her bottom in which she is not bruised. This is a result of the extra protection from the seam of her back pockets.
Comments:
Ahh.....School swats, my favorite series. As I recall there hasn't been an update for most of the year. Michael, is there any chance of it becoming regularly updated again?
You were not kidding about the marks! I can imagine how sore they must be. Those young ladies must have needed a few gallons of arnica and blister cream,lots of soft cushions,and maybe in a some cases, a mantelpiece to eat off for awhile.
Know they didnt wear a thong bikini to the beach or pool anytime soon after that.
Now thats an idea-some pictures of a girl in a thong getting that paddle.
Well maybe the reason there is so much bruising in your series is that most of the girls get ten swats. The typical school paddling is usually only two or three swats and seldom more then six.