Bikini spanking and a reverse sunburn
Usually when a young lady returns from the beach or the pool and she peels back her bikini bottoms, you see white where the swimsuit was and red where it was not. I thought this photo provides quite the opposite and gives her the look of a reverse sunburn: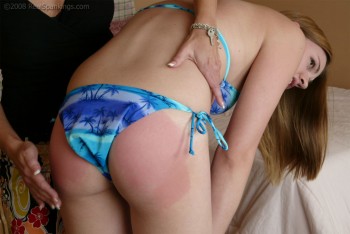 From the member's area of Realspankings.com

Once the spanking progresses and her bikini bottoms are removed for a dose of the leather paddle, the contrast does not seem so foreign: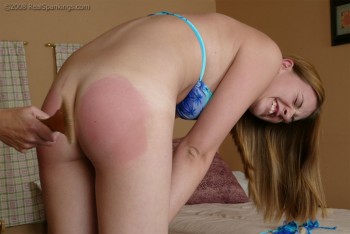 From the member's area of Realspankings.com

While I have worked with Monica a limited amount of times, she is quickly becoming one of my favorite young ladies to spank. With her desire for very severe canings and her constantly bugging me for a "real hairbrush punishment spanking" she is at the top of my list when the new studio opens. I will have to make sure that her next severe caning from me is immediately added to the member's area of RealspankingsInstitute.com and I will make sure that the member's of Realspankings.com are treated to a hairbrush spanking like they have not seen since the one I gave to Trish below. Get ready Monica I am going to give you all that you have been asking for and just a little more...I see tears in your future.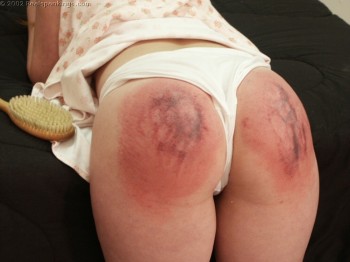 From the member's area of Realspankings.com
Comments:
Now that's how a well beaten and bruised bottom 'should' look. I'm sure Trish's bottom must have felt very tender for a few days after that spanking. But it probably felt 'good' to her, as well. A nice reminder of what she submitted herself to.
So Monica likes to push the envelope, eh? Well, with Kailee gone, it'll be good to have at least one spankee who's daring you to give her more instead of begging you to give her less. Of course, it'd be even better for Kailee to come back, and have TWO of them. Three? Four? The more the merrier?
On the other hand, there's a sizable contingent of spanking fans who want the models to be (or at least seem) scared to death of their spankings. So we wouldn't want ALL Kailees. Need some Kathys (deer-in-the-headlights look) for balance.
Yes it is nice to see a girl take a really hard punishment but then again to see a first timer with the fear in her eyes is pretty damn hot as well. ANd then you got a girl like Liz who had it all hard spankings & that scared look. KEEP UP THE GOOD WORK on all the sites.
Monica is great in a bikini. The bikini spanking is great, too.
I look forward to seeing those scenes, and think that is great news. I really look forward to them.
"Now that Kailee is gone"
I have never said that anyone is gone. We simply had a break in studio shooting for a while. All previous models have an open invitation to come back and Kailee is still local. I would not be a very smart move to not open our doors up for Kailee in the future. In fact, she is the only spanking model that appeared in our AVN award winning video, so clearly she brings a lot to any scene. See me post on the World Spanking Forum yesterday for more details about working with Kailee.
http://www.worldspankingforum.com/forums/showthread.php?t=7967
Cheers,
M
It is always good news to hear that Kailee may be back for more soon! Monica was always a favorite of mine and I'd love to see her get a good hairbrushing . . . really, who wouldn't love that?