The Spanking Blog
This is an adult site dedicated to the exploration of spanking between consenting adults. The main focus is on disciplinary spankings portrayed in various spanking videos and pictures, with sample pictures and reviews of the spanking content. The most recent blog posts appear below, and the free spanking picture galleries on this site can be found on the menu on the left. All spanking content on this site is free, and any link leading you outside of this site is clearly labeled as such. You must be 18 years or older to view this site.
[ Tuesday, August 02, 2011 ]
Spankingtube Pages
Well I finally got the boot from Facebook, having never posted a picture that had any nudity. As a result, I have setup an account with Spankingtube. I have begun posting behind the scenes video from every shoot that we do. This allows you to see the girls after each scene they film and more specifically, look at their cute bottoms as they go from pink to purple over the course of the day. The scenes are posted the same day as the shoots, and often just minutes after the spankings have been administered. I have also begun to include a small glimpse from the actual spankings so you can see the kind of content we show that day. My spankingtube profile includes blog posts, exclusive photo galleries, and of course videos. I have also posted a couple of full length videos from our member's areas. You can view all of this content for free at MichaelRMasterson at Spanking Tube.
Bare Bottom Asian School Girl on Display
Young ladies who choose not to wear panties to class may indeed be put on display. Notice the young lady in front of her has also been made to remove her skirt. Being that this is a coed classroom it must be even more embarrassing. Quite the bonus for the boys sitting behind her though.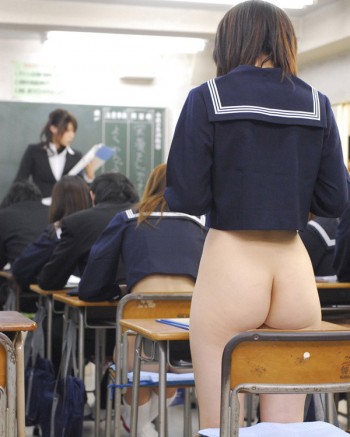 More Tanlined bottoms needing a spanking.
I previously posted some milky white bottom pictures that clearly required a little spanking, so I thought I would do it again. Tan line butts have always really done it for me. I think it comes from Playboy in the 70's where I got my first glimpses of bare butts. I am back from my summer holiday so it is business as usual again. Give me some blogging ideas, I am low on inspiration.