The Spanking Blog
This is an adult site dedicated to the exploration of spanking between consenting adults. The main focus is on disciplinary spankings portrayed in various spanking videos and pictures, with sample pictures and reviews of the spanking content. The most recent blog posts appear below, and the free spanking picture galleries on this site can be found on the menu on the left. All spanking content on this site is free, and any link leading you outside of this site is clearly labeled as such. You must be 18 years or older to view this site.
[ Sunday, May 04, 2008 ]
Bottoms in need of a spanking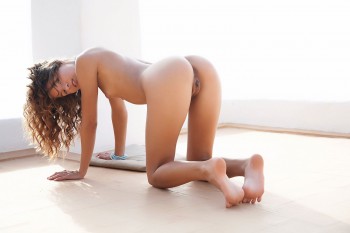 From the member's area of Met Art Fine Photography.

Wonderful bottoms requiring a spanking brought to you by Met Art Fine Photography.. Click the "More" link for additional pictures.
[ Friday, May 02, 2008 ]
10 site Spanking Pass
One of my many memberships that I always keep active is the Spank Pass. It gives access to four sites that I enjoy. On the 28th my six months finally expired and when I went to renew, I discovered the new pass that they are currently offering. Their new 10 site Spank Pass includes the four original sites, plus six more including their Hi Def Spankings site which I have been more than curious about. The Hi Def spanking videos are truly the best resolution I have ever seen and allow full screen viewing at the highest monitor resolution, but you should consider your connection speed when thinking about this site, these files are really big. The 10 site Spank Pass includes membership to all of the sites I will list below, for a one time fee, and no rebills. The only word of caution that I can offer, is the price listed is not US dollars, I think it is Pounds, so when all is said and done, it is more than $100 bucks, but still a major deal for ten sites that update regularily, 6 months access, no download restrictions and no rebills. You can check out this deal at 10 site Spank Pass.
[ Thursday, May 01, 2008 ]
This guy needs a little help
I thought the point of a spanking was to correct bad attitudes and help control undesirable behavior. Let's just say that this woman should be very glad that she in not my wife. A proper punishment ends when they submit to what they are receiving and give in to the punishment. Look at the anger in her face as she is being punished, not to mention her reaction to what I do admit is a pretty hard bare bottom hairbrush spanking. She would have been off my lap in seconds, crawling to retrieve that hairbrush, and apologizing the entire time, knowing the fury she had just created for her already bruised bottom. One other thought comes to mind...large buttplug and very uncomfortable corner time. I think he may be the one that needs to be taught a thing or to. I think switching to a leather paddle is a step in the wrong direction, unless he only spanks her upper thighs.
Interesting stats
Just thought I would provide you an interesting fact about the blog. Yesterday, the blog was viewed by visitors from 66 different countries. Top 5- US, UK, Germany, Canada, and France. Interesting additions to my audience- Lithuania, Iran, Jordan, Egypt, Namibia, Bulgaria, Estonia, Serbia and Montenegro. Welcome to all of my foreign visitors. Remember that you can go to Google translate and enter the blog address and have it translated to the language of your choice. This is also a feature that you can use if you have installed the google toolbar.
Blogs, Bandwidth, and advertising
I have never made it a secret that if you signup for a site I support, through a link on this blog, that I get a little piece of the action. In the world of blogs there seems to be two types, those that are just a sort of personal journal for people who want to have their voice heard, and those that serve more of a commercial purpose. Some of the spanking blogs out there are just one big advertisement, and they tend to get on my nerves a little. I have always tried to find a balance between promoting sites that I own or support, and adding a little something extra through my posts. I believe that I provide more in the way of free content with all of my free spanking galleries, and as a result, these pictures have been viewed and downloaded millions of times. One thing all of you must realize is that bandwidth is not free, and a popular blog is a double edged sword. The more visitors I get, the more it costs me to run this site. Luckily, every few days someone from the blog signs up for a site through my blog and over the course of a month, the blog manages to run at a positive. But for perspective, yesterday, with every visitor to the blog, a total of 89,456 page views were loaded.
I love that my blog is becoming popular again, but I would like to ask you all a favor. I understand that for many of you, a site like this is your source of spanking content and that you do not pay for memberships to spanking sites, which I fully understand and have no problem with, this is after all a free spanking resource. What I would like to ask, is that if you do decide to eventually join a site that you have seen listed here, please signup for that site by going to it from a link on my blog. It does not cost you more, it simply means that the site you join gives me a small percentage of your signup. Your signups to spanking sites, that take place from links on my blog, keep this blog going. I think I am fair with my links and have yet to list a site that is not worth the money. I do not recommend any sites that I have not personally bought my own membership to. I am not trying to give you a sob story, nor am I begging you for money. I am just asking that if you have been reading reviews about sites here that you finally decide to give a try, when you go to signup, please come back here and enter their site from my blog. The more signups through here, the more bandwidth I can afford, which allows for more free picture galleries, and will hopefully allow something that I have always wanted to do, which is a large free video gallery area. But with the current amount of bandwidth this blog sees as a result of just pictures, free video galleries would probably leave the blog running at a negative, which I cannot allow to happen. If you made it to the end of this post, thanks for at least hearing me out. Cheers.