The Spanking Blog
This is an adult site dedicated to the exploration of spanking between consenting adults. The main focus is on disciplinary spankings portrayed in various spanking videos and pictures, with sample pictures and reviews of the spanking content. The most recent blog posts appear below, and the free spanking picture galleries on this site can be found on the menu on the left. All spanking content on this site is free, and any link leading you outside of this site is clearly labeled as such. You must be 18 years or older to view this site.
[ Monday, May 19, 2008 ]
Out of town
Sorry for last week, I was out of town, and even though I travel with a laptop, it is hard to get a blog post in every day while on the road. For those of you who check here everyday, this week will be back to daily blog posts. I will have a new post up in a couple of hours. Cheers.
[ Thursday, May 15, 2008 ]
Japanese Spanking Videos?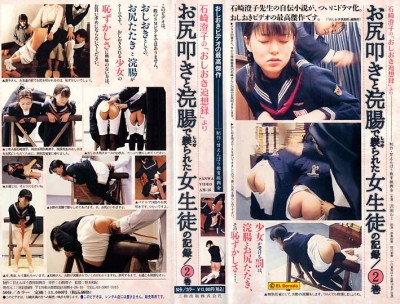 Does anyone know anything about these movies? I can't seem to find an English speaking site that sells them and I was wondering if anyone out there has watched any of the spanking videos by this producer. Leave a comment if you know anything about these videos or the producer, thanks.
[ Tuesday, May 13, 2008 ]
Current Spanking Pictures
Today I went through member's areas of Realspankings.com and RealspankingsInstitute.com and grabbed a few pictures from the most recent updates that I enjoyed the most. Highlight for the past couple of weeks:
Claire's bedroom punishment at RSI is a sexy scene and I like any scene that involves a wooden paddle and the diaper position: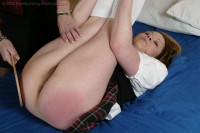 Jackie gets a nice bare bottom paddling at RSI for being up after lights out, with the big lexan paddle with holes: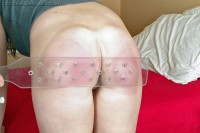 Monica's bottom feels the sting from an unusual thin wooden paddle at RealspankingsInstitute: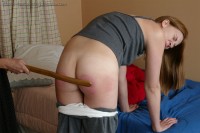 As well as a double paddling she received at Realspankings.com with Brooke, in which both girls were made to hold their paddles high in the air as they awaited their paddlings. Big wooden paddle and really marked bottoms on this one:
This week also proved to be painful for both Kailee and Melody at RealspankingsInstitute.com. Kailee takes a hard bare bottom paddling for talking bad about the dorm mom, and Melody finds herself otk for a nice hard handspanking with her skirt pulled up and her panties pulled down:
And to finish it all of, one of my favorite new models, Raquel gets punished at both RealspankingsInstitute.com and Realspankings.com. At RSI she receives 12 of the best with the cane, in her dorm room, on her wonderful little bottom:
And for Realspankings.com she is made to strip fully naked for a spanking with a yardstick. This is for the "Faces" series, so there is a close zoom of her cute face throughout the entire punishment: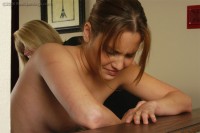 All pictures are highlights from the last two week's updates in the member's areas of RealspankingsInstitute.com and Realspankings.com
[ Sunday, May 11, 2008 ]
New sorority paddling pictures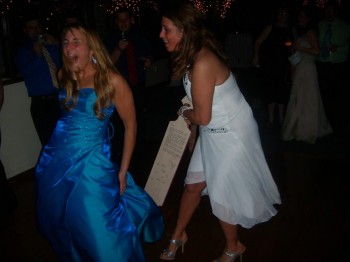 Here are a few new sorority paddling pictures that I came across that did not make it into the current picture galleries. This sequence of photos is a little unusual. Typically, when I see paddling photos from an event such as these, it is generally the ceremony in which the lil sis, gives her paddle to the big sis. Typically a single swat is exchanged between just the two of them. What makes this sequence of seven pictures a little different, is that there are only two different girls getting paddled. Clearly this is a formal event, with the full sorority in attendance, as well as either a fraternity also present, or possibly just the girl's dates. Both of the girls are paddled by many different members of their sorority and it is clear from the facial reactions, that these weren't playful taps. I wish I had the full story on what led to this two young ladies, in their formal gowns, bending over for multiple swats, in front of an entire ballroom full of people. Click the "MORE" link for the rest of the pictures.
[ Thursday, May 08, 2008 ]
More tied titties and nipple pain from Hogtied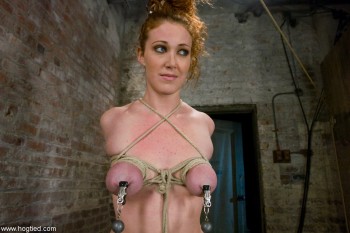 From the member's area of Hogtied.com
I have said it before, that when it comes to bondage content, I need a lot more than just a young lady tied up and struggling. For it to really appeal to me, I like to see a sense of there being a punishment taking place. Beyond standard corporal punishment, I look for the scenes in which some sort of discipline is applied to an erogenous area of the body. Specifically, I like to see a crotch rope used and I love to see breasts that are tightly bound, as well as the use of nipple clamps. In the last couple of weeks, it almost seems that the people at Hogtied have been reading my blog. Every update has featured gorgeous breasts bound tightly. They have taken it to new levels and I just finished watching a few different scenes in which there is really creative breast bondage. They have been creative with not just tying the breasts, but then hoisting them toward the ceiling, much like the crotch rope, forcing the poor girl up onto her tiptoes.
From the member's area of Hogtied.com

They have also done some interesting things with rubber bands and wooden sticks to compress the breasts, binding the breasts individually and then tying them together, as well as some very painful nipple clamps. I have been in tied titty heaven over the last week. Click the "MORE" link for some pictures from my favorite video updates from the last couple of weeks at Hogtied.com.
[ Wednesday, May 07, 2008 ]
Punished Feet
Well we started on the calves and worked our way up to the thighs, today I thought we would move on down to the feet. These two videos feature discipline administered to the bottom of the feet. Below are a few picture previews. Click the "more" link to watch both videos. Enjoy!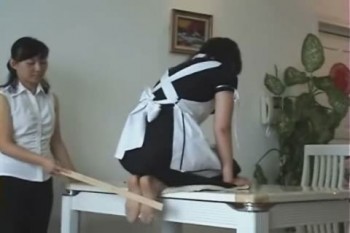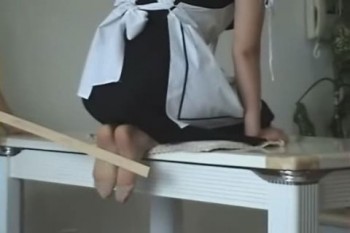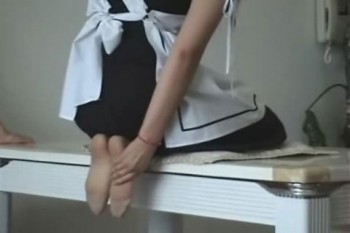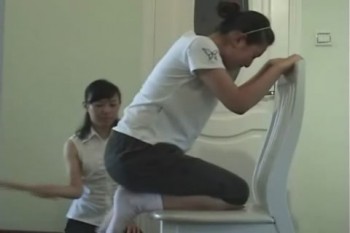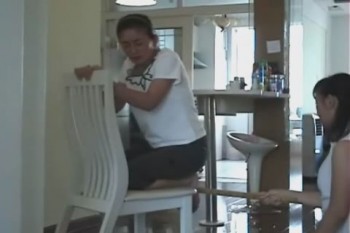 [ Monday, May 05, 2008 ]
Amelia Rutherford grabbing ankles for a paddling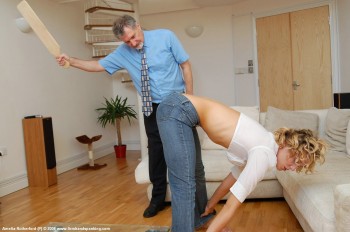 From the member's area of Firm Hand Spanking
Firm Hand Spanking's latest video updates features Amelia Rutherford in tight jeans, bending over and grabbing her ankles for a hard paddling with a large wooden school paddle. What else can I say except Yummy. There is also a 1500kbps version of this video in the member's area, so it was wonderful to watch in full screen.
Emilie gets spanked
I have been enjoying a new blog find for me which is Emilie Gets Spanked. It seems very similar to how Realspankings was started. Nice pics of a young lady sharing her private spankings with the world. Seems that she has branched out and is selling video clips as well, which seem to include spanking, a little sexual play (oral sex, butt plugs, etc). There are not too many blogs out there that I go through the whole site and read all of the posts, but this one kept my attention, so it is worth a visit.
[ Sunday, May 04, 2008 ]
Chat now at the Forum
I'm bored, join me for a chat right now at the World Spanking Forum currently 2:05 PM Mountain time.
Sorority Girls Paddling Frat Boys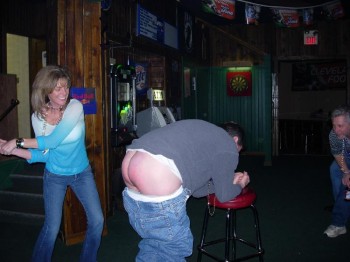 I added a third gallery to the free sorority paddling pictures area. This gallery is dedicated to the young ladies getting some payback and bending some frat boys over for a hard paddling. These young ladies sure seem to enjoy it, the smiles on their faces tell it all. You can view the new pictures in this gallery HERE.